| | | |
| --- | --- | --- |
| | QUICK HITS | |

Next Race(s)
Latest Results
| | | |
| --- | --- | --- |
| | NEWS | |
| | | |
| --- | --- | --- |
| | TONY BARELA NEWS | |



TEAM CSC 2007

MECHANICS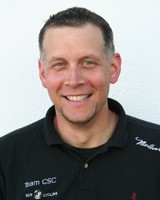 Name: Tony Barela

Country:

Tony Barela became a full-time mechanic for Team CSC in 2007 after having freelanced for the team for a while. He has not worked for a cycling team before, but still has a vast experience as a mechanic.

"I've had my own bike shop for a number of years and I actually sponsored Fränk and Andy Schleck a few years back. Other than that I've worked as a mechanic for a cycle-cross team and some downhill-riders earlier, and I've also done some work for the Luxembourg National Team," explains Barela, who saw the sponsorship of the Schleck brothers as an investment:

"Fränk came to me and asked if I wanted to work for the team as a mechanic. I thought he was joking, because that would really be a dream come true for me, but luckily he wasn't joking," laughs Barela, who was born in the States and grew up in Luxembourg.

After selling his bike shop in 2004, and before coming to Team CSC full time, Tony ran a pension for horses for a couple of years along with his girlfriend. The horses are still a hobby for Barela, who still counts cycling as his number one though.

"Many times I've thought about how to get a job as a mechanic for a team, but I had no idea how to go about it. The fact that I ended up at Team CSC is fantastic," says Barela with a smile.

He has also worked as a snowboard instructor in the States, where he lived for seven years from when he was a teenager. But when he got back with an ex-girlfriend from Luxembourg he packed it in.

"It was a tough decision, because I really saw a future as a snowboard instructor, but she didn't want to live in the States, so I ended up moving back to Europe and got into cycling," says Barela.