| | | |
| --- | --- | --- |
| | QUICK HITS | |

Next Race(s)
Latest Results
| | | |
| --- | --- | --- |
| | NEWS | |
| | | |
| --- | --- | --- |
| | CHRISTOPHE DESIMPELAERE NEWS | |



TEAM CSC 2007

MECHANICS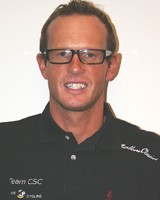 Name: Christophe Desimpelaere

Country: Belgium

Height: 185cm

Weight: 75kg

Christophe Desimpelaere was one of the very first people, who was recruited to the team, when it all began back in 1998, and he has been a valuable member of the team ever since.

Desimpelaere is the only of Team CSC's mechanics, who has taken up permanent residence in Denmark and he works at the team's service course in Lyngby, where the administrative office is located as well.

He began his career as a bike mechanic already at 14 - in Belgium it is possible to go to an actual bike mechanics school, which is what Christophe chose to do. For five years he combined his regular studies with his education as a mechanic.

In the mid 90'ies Desimpelaere started as a mechanic at Club La Santa in Lanzerote, where a lot of the teams hold their training camps. It was here he first made the connection to Denmark in more ways than one.

"I knew Bjarne [Riis] and Alex Pedersen from Club La Santa, but before that I knew Bjarne from Ariostea and the Gewiss-Ballan team, so I've known him for many years before he started Team CSC. But I was already living in Denmark, because I'd met a Danish girl at La Santa, whom I moved here with," explains Desimpelaere.

"I worked in a bike shop in Copenhagen in 1997, when Alex contacted me and asked if I wanted to join Team home Jack&Jones; and I've been with the team ever since."

Desimpelaere might have started his career on the team as a rider instead, had things not turned out the way they did. He raced for a lot of years when he was younger, and at 22 he was chosen to represent Belgium at the Olympics in Barcelona. Five of eight riders on the team were going to do the road race, but unfortunately Christophe injured his knee and had to take an involuntary break for 16 months.

"I had trouble getting motivated after such a long break, but during a stay with the national team at La Santa in 1994, I came into contact with some people down there and I decided to start as a mechanic in stead of racing," explains Desimpelaere.